Beware! It is Income Tax time and More Scams
02/24/2017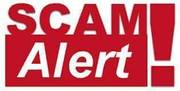 IRS SCAM
They have started calling individuals and leaving voicemails with the number 1-855-888-5924 to be called back. The individual is very aggressive. There have been several complaints of people receiving calls from the IRS. The number is 1-855-888-5924, 202-241-8602 AND 765-308-4650. The callers have been stating that you owe back taxes and ask for personal information. If you refuse to give the information to them, they are threatening that the police will show up at your residence and arrest you. Please keep in mind that the IRS will not call asking for personal information, nor will they send the police to your residence to arrest you.
PUBLISHERS CLEARING HOUSE SCAM
This office has also been receiving complaints of someone calling stating they are with Publishers Clearing House and you have won several thousand dollars.
Citizens are being given information stating they will receive a Certified U.S. Government Check # 428055 and Confirmation # 8669965997. Also stating $950,000.00 will be delivered by UPS, 2017 GMC Pick up Truck. Just pay Processing fees and Registration of $138.00. Please do not give any information to these people or send them any money. This is a SCAM!