James Trevor Vaughn Arrested on Several Felony Charges
12/07/2015
Deputy Kendole Boykin had taken a theft of property report on December 1, 2015 and started an investigation to find the firearms and 4 wheeler stolen.
Upon following the information given Deputy Boykin was able to recover all items stolen and arrested James Trevor Vaughn.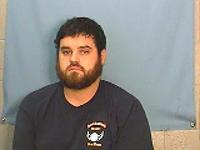 On December 2, 2015, James Trevor Vaughn was arrested and charged with the following:
Residential Burglary a Class B Felony, Theft of Property a Class C Felony, Criminal Trespassing a Class C Misdemeanor and Breaking and Entering a Class D Felony.
BOND was set at $10,000.00
Great Work Deputy Boykin on the arrest of the suspect and recovering the 4 wheeler and firearms!