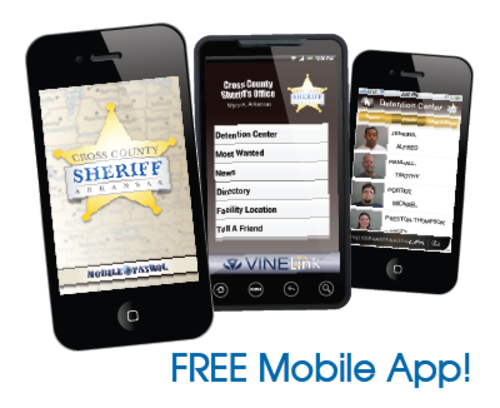 Cross County Sheriff Introduces Smartphone App
Technology improves delivery of information to residents
Cross County Sheriff J.R. Smith announced today that his office has launched a smartphone app that allows the office to communicate much more effectively with the community.
The Cross County Sheriff's Office app is a free download for users and is available for both iPhone and Android smart devices. The Android Smart devices are available now iPhone will be available very soon.
Users of the app will have access to real-time detention center information, plus lists of non-custodial parents and most-wanted criminals. The sheriff's office will also be able to send news and alerts directly to users' smartphones – notifying them about anything from bank robberies and missing persons to escapes, weather warnings and more.
"The most beneficial and significant feature of this app is that it lets us get important information right to people's fingertips," said Sheriff J.R. Smith. "The app greatly improves our ability to serve the public, and that's what we're here for. We're thrilled that we can provide this to the community."
The app is also fully integrated with the county's victim notification service, VINE (Victim Information and Notification Everyday).
"We know that more and more people are getting the information they need from their
smartphones," said Sheriff J.R. Smith. "We want to make sure we're using the latest communication technology to keep the public informed, and this app lets us do that."
Cross County Sheriff's Office